So who are you Ticons? Tell us a little about yourselves.



We are Fredrik Gilenholt 24, Working in a music-store selling musical equipment, and Filip Mardberg, who is living on the music.




Why the name Ticon?



We use to have a project called Tripticon a couple of years ago making psychedelic trance and that came to an end in `98. We wanted to make something new and more

progressive and have been making psytrance for 4 years, so we couldn't develop Tripticon further. So, we cut the trip out of "tripTICON" and our music and what was left was Ticon.






What is your musical background?



Fredrik: I was singing a lot when I was a kid and always had a big interest in all kinds of music and instruments. I have been a member of different kinds of groups playing acoustic-bass and things like that but the first time I saw a computer with a music program I was sold out. So I bought an Amiga and started with a tracker-program. Then I met Filip and now 7 years later, here we are! :)
Filip: I actually didn't have any interest of music when I was young! No major favorite groups of any kind and it was not until I met Fredrik that I got a hang of that ting called music, at that time I was only 14 years old so I have had some time to develop my sense for tones and stuff. But I don't think that you have to be a musical genius to make dance music. Electronic music is more about programming, feeling, listening and just being impulsive and experimental!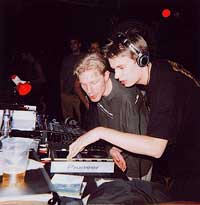 How did you get to trance? What got you in this music?



Filip: I think I speak for both of us when I say that we were fed up with the mainstream crap that you hear every day. When we first heard trance music for the first time there was no doubt about it, this was what we wanted to do and it still is! :)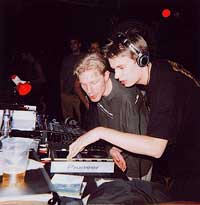 OK, the first reason for the interview is your new Rewind album- it's been out a month now- how are the responses? How does it feel to you to have an album out there?



Filip: The responses are actually overwhelming! Much better than we had hoped for, so we are for sure absolutely thrilled that people like what we do and it feels very nice because of all the time and effort that we have put in to this album.
Fredrik: It feels fantastic that wee finally have an album on the market after so many years of hard work, and this is also an album which we are very proud of!




Tell us a little bit about the album?



Fredrik: We really wanted to make a diverse album that could reach out to as many people as possible. For example: we have tracks that are more techno-inspired, some tracks that are softer morning tracks and of course typical Ticon tracks.
Filip: The tracks that we have gathered for this album are fore sure the best tracks that we've ever made and I think that we have got that story that an album requires between the different tracks.




Why did you release so many 12" and tracks on compilations before you decided to release the CD? How did you choose what tracks will go for the album? What made you feel this is an "album track"?



Filip: We had been making music under the name Tripticon for 4 years without any successful releases, so when we started Ticon and all tracks, even the first track we made, were really interesting for record labels around the world. I think that we scored in the timing of new progressive trance and a lot of trance labels were interested.
Fredrik: We have always been big fans of labels like TIP, Dragonfly, Transient and so on that it was natural for us to release 12"s on labels like these. When we first got our first contract with TIP we had a smile up to our ears! We also wanted to have some tracks on the market so that people would know the Ticon sound before we would start to produce an album.
Filip: But I think that it was always in the back of our heads that we want to release an album, so about 1 year ago we started to gather tracks for it. We kept the best tracks (he he he) for the album and released other tracks on 12"s and compilations. And it was no question about that we wanted to release it on Digital Structures because we wanted to work with a really professional label and they are also our very dear friends.






There's a bit of a "clubby" feel to the album, much more than the previous Ticon tracks, it seems you drift towards the clubby scene, leaving some of the technoish and tribal more psychedelic outdoor feel outside- is that true (I hope not)? Why? Maybe you spend too much time indoors because of the Swedish weather?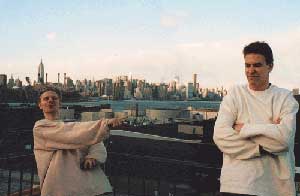 Filip: The Swedish weather is the cause of the typical Ticon sound, here its rainy for 9 month of the year, so it is perfect for studio related activities. But when the winter is as dark as it gets, there are a lot of clubs here and that can be related to the more clubby sound. But we also wanted to make the album a bit clubbier. We don't think that we have lost the tribal touch to our music, I still think that this album does it's best on outdoor parties.




If you ask me for a word to associate with Ticon- I say: TRIBAL- how come two Swedish guys have such a tribal feel to their music?



Fredrik: I don't really have an answer to that but when we started Ticon we really wanted to make the project a tribal one!
Filip: We have always been inspired by percussions, but it was not until 2 years ago that we got the opportunity to make it happen, because we didn't have the gear for it. So we bought a Mac G4 (respect) with hard disc recording so that we could have a lot of samples.
Fredrik: I also think that this is the reason for the groove in our music, the samples make it less stiff and make the track alive.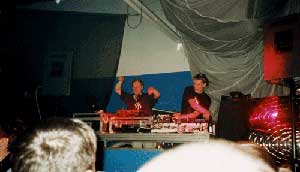 Do you think trance music gives people a chance to experience being a part of a tribe again, something depraved of them in the modern western world?



Filip: Outdoor parties make it possible to come together as a tribe, the feeling of being together as one is a good example of a perfect party.




The second reason for this interview is your recent visit to Israel- you played on the big Tribal Dance Festival- how was it? There were great responses on your set.



Fredrik: The Tribal Dance Festival was for sure the best outdoor party that we have ever played at! The crowd was amazing and there was a really nice atmosphere and we were really happy to get the opportunity to play there.
Filip: Yes, we had a wonderful time, we also (apart from the wonderful festival) got the opportunity to meat nice people like Dede, Etnica, Element, Mark Allen, Tristan and so on.




You've released quite a few tracks on compilations and even 12"s in Israeli labels (Optimus, Cosmophilia, Hommega, BNE)- is this just a coincidence? Does it mean we're gonna see more of you here in the future?



Filip: I don't know if it is a coincidence, but Israel has a lot of good labels like Optimus, Hadshot (Yaniv) and so on. I really think that you are going to see more of Ticon in Israel, because from what we experienced on the few days we were there we really got the opinion that this is a great country for trance music.
Fredrik: Yes we really think so! :)






So, the album is out, what now? Do you feel the urge to go back to the studio already?



Fredrik: Right now we are fully booked with gigs around the world and we are really enjoying ourselves with playing our music for different people, and we really want to promote the album as much as we can. But naturally it is itching in our fingers to go back in our studio to tweek some sew sounds and to make more tracks.
Filip: We are going back to the studio for some days between the gigs right now, to make a track for the forthcoming Digital Structures compilation, and that will be heaven for us. We love to play at great parties around the world but our studio is for sure our home.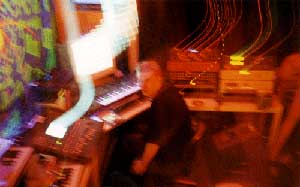 Future plans?



Fredrik: We already have another project running which we call NDSA- New Disco Science Alliance- were we try to push the boundaries of club-trance even more, and to try to make something different from Ticon, just for inspiration. We hope to release the tracks soon on more clubby labels but we have already one signed to Baluns records and it will be out on the next Baluns compilation. But we must add that Ticon will always be our "main" group.
Filip: We don't know what the future will bring us but as long as you live in the present you can just dream! :)

More on Ticon here:
http://www.mpdqx.com/digitalstructures/ticinframe.htm
http://www.ticonmusic.com